← Blog Home
I've Seen the Future and the Future is Consumers Energy
A little over a year ago, my colleague, Jess Melanson and I released an ebook outlining our vision for the future of energy. Our perspectives were further explored in March on what has turned out to be a highly influential GTM Energy Gang Podcast. We hypothesized the ways in which the energy industry could be upturned from the likes of tech giants like Amazon. We outlined fundamental best practices to help utilities take control of the industry's future, rather than leaving it up to outside disruptors. I figured these insights would resonate well, but I didn't expect to see much radical change in the near term. However, I've been inspired by some of the developments being driven by my counterparts at utilities throughout the country. Most recently, Consumers Energy.
Last week, I had the pleasure of attending the Consumers Energy leadership summit--an exclusive event that gathers 300 of the company's top leaders to discuss the industry's future and how Consumers Energy is leading the charge for Michigan. For each event, Consumers Energy invites a thought leader in the industry, such as the Energy Gang at the last event, to share unique and thought provoking insights. I was honored to be invited to their latest event and join CEO Patti Poppe for a 'Backyard Chat' (complete with an on-stage campfire) and share my vision for the transitioning energy landscape.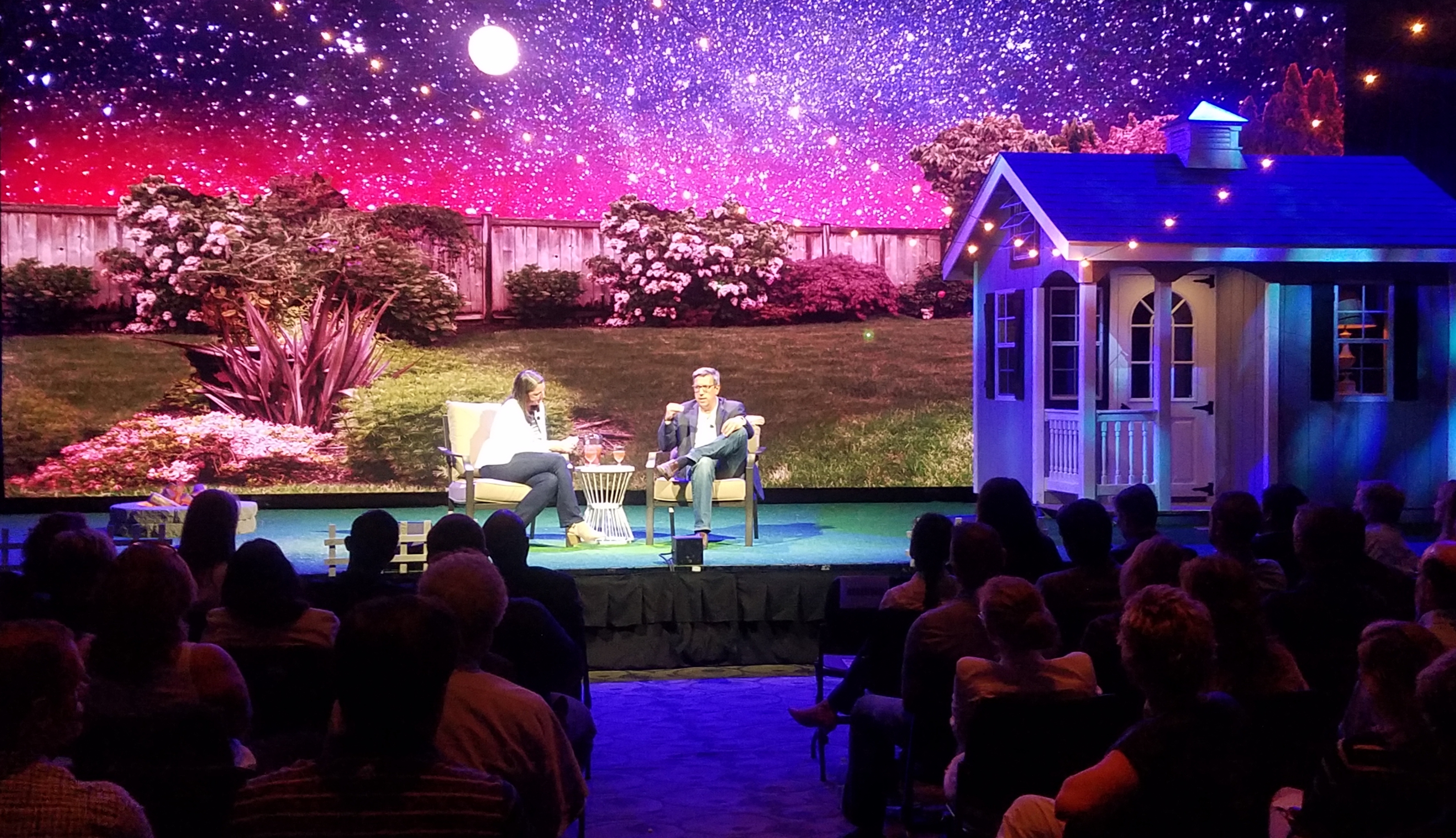 As I was listening to Patti and in discussions with her leadership team, I realized the best practices listed in our ebook were coming to life at Consumers Energy--Don't build a wall, Don't attack the innovators, Do identify no-regrets opportunities, Do capitalize on your assets--these principles have been in practice at Consumers Energy as they plan for the next few decades, and their future is looking bright. While I certainly can't take credit for their approach, it is incredibly heartening to know the people truly in charge of innovating for the future are on the right path.
There are a few key aspects of Consumers Energy's business model and outlook on the future that particularly stood out to me:
Stakeholder Management
Patti and her leadership team are clear-eyed about threading the needle between the needs of multiple stakeholders. Their mission, world-class performance delivering hometown service, is measured by their commitment to their people, the planet and the prosperity of Michigan. To address all stakeholders, they are remarkably inclusive in their strategic planning, ensuring shareholders, employees, customers and regulators are all involved and well informed. In fact, stakeholders and regulators were also invited to join the leadership summit and take part in the dialogue.
Addressing the Elephant in the Room
Consumers Energy is fully aware and receptive of the need to transition away from coal-powered energy. They know they can't afford to punt this problem down to the next generation. The company's most recent integrated resource plan (IRP) includes an ambitious transition to zero coal and transitioning their energy mix to more than 40% renewable energy by 2040.
As coal plants are taken offline, about 4,000 megawatts of electric capacity will be removed from the system. To offset this change, Consumers Energy is implementing an impressive mix of non-wires alternatives that will also provide more value to customers, including demand response, energy efficiency and battery storage--all while maintaining affordable, competitive energy costs.
Breaking Down Silos
Customer experience plays a pivotal role in the transformation of the energy industry. Forward thinking utilities are aligning every point along the utility value chain with their customers' best interests. Consumers Energy has embraced this shift and created innovative solutions to break down common organizational silos that can disjoint the customer experience.
For instance, when it comes to customer engagement, the technology used for customer-facing touchpoints--billing, outage alerts, energy efficiency, demand response, et al--will largely shape customers' sentiment toward their utility companies. Keeping up with advancements in these technologies and meeting the growing expectations of customers is critical. However, many utilities run into challenges when trying to use in-house and third-party technologies to meet the needs of both the grid and customers. To solve for this, Patti has appointed both the role of Chief Customer Officer as well as Chief Information Officer to one person, Brian Rich, ensuring all advancements made in Consumers Energy's technology stack align with the needs of its customers.
Consumers Energy is focused on delivering a happy, profitable business on the other side of the energy industry's transformation. The leadership team is unafraid of technology, they understand the shifts that need to be made and they are unflinching and transparent at getting everybody at the table to make real progress. Instead of approaching the evolving landscape with the mindset of "What can I do inside my constraints" Consumers Energy looks to an ideal future and asks, "'What do I need to do in order to get there?" That shift in thinking is right on! I am very grateful to Patti and the leadership team at Consumers Energy for including me in a conversation that has left me energized and more bullish than ever on the future of our industry.