← Blog Home
The energy industry has been vocal for a long time now about the mounting threats of disruption for utilities, including the potential loss of revenue, erosion of customer relationships, and reduced grid reliability (to name a few). But a defensive play to quell such threats isn't the only option. By reassessing the addressable market, there is great potential for utilities to not only thrive from disruption, but to drive it as well. This can be done in part by broadening how you define your market. For example, are you in the business of selling electrons or are you in the home comfort business? Focusing on the former can leave you susceptible to your revenue and margins steadily decreasing, while capitalizing on the latter could expand your brand's reach, strengthen customer relationships and open up new revenue streams. One avenue to becoming a home comfort business lies in the Energy Cloud, a term coined by Navigant Consulting, Inc. (Navigant).

Consider the following:
The United States Energy Information Administration reported that 2015 revenue for electricity sales in the US across all sectors was $391 billion. 


That number is down $2 billion from 2014, and projected to stay flat or see negative growth for years to come.


By contrast, the emerging Energy Cloud, defined by Navigant as an energy ecosystem that employs universal connectivity, intelligent sensors and devices, information and operations technology, and data-driven machine-learning functionality across the grid value chain, is valued at $1.3 trillion in new annual industry revenue by 2030.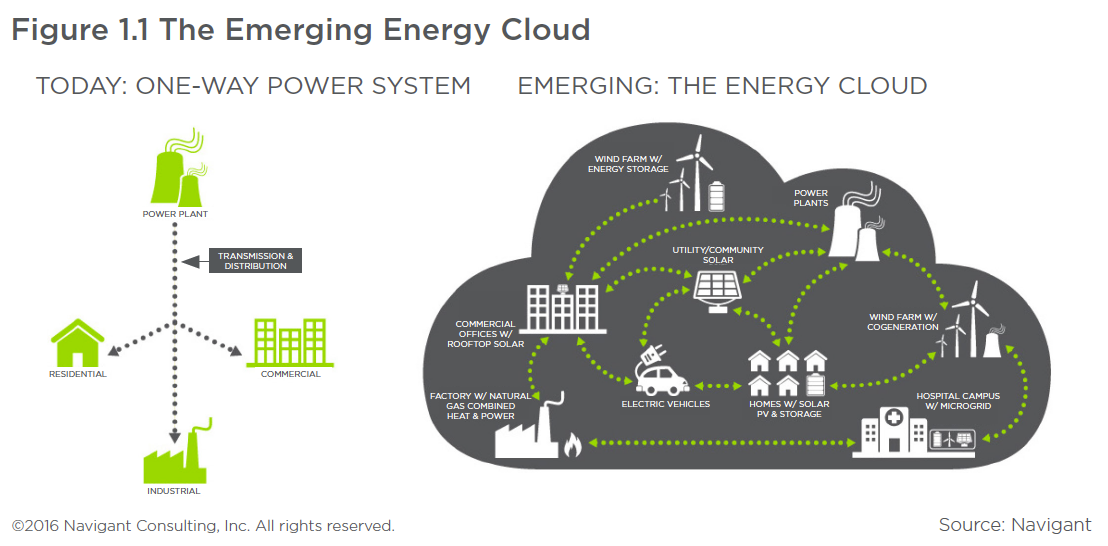 The Energy Cloud is a shift from the traditional one-way power system to a highly networked ecosystem of two-way power flows and digitally enabled intelligent grid architecture.This shift presents the opportunity to sell more than just electrons and tap into the $1.3 trillion dollars in revenue that is up for grabs.

In order to do this successfully, it's important to consider how consumers think about energy. Most people outside of the industry are not thinking in terms of kWh. They're thinking about keeping their home at a comfortable temperature, charging their electronics and ensuring their showers are hot. Utilities who are willing to broaden their addressable market can offer products and services that better fit the needs and wants of their customers while expanding their reach within the Energy Cloud.

An example here is teeing up a smart thermostat program with your customers that benefits your business as well. Customers save money from the efficiency benefits and get a sleek, convenient piece of tech they can control from their smartphones. Utilities receive energy efficiency savings right out of the box, and when working in conjunction with a data analytics platform, smart thermostats can be used for highly successful and customer-friendly residential demand-side management (DSM) programs. By taking advantage of these benefits, utilities can stake their claim within the burgeoning IoT landscape and maintain better grid reliability by ensuring they remain the entity that is managing and aggregating residential load. Companies like Nest and Honeywell could also offer to automate and manage heating and cooling for customers, but would utilities really want them to? It's better to partner with these companies now before being left out of the conversation.

Smart thermostat programs are a great way to start expanding the reach of your business. Energy efficiency savings and better demand management are solid benefits, but let's consider taking it a step further to increase revenue as well. You could partner with thermostat providers as well as HVAC technicians and offer your customers a "Worry-Free Home Comfort package," that includes includes a smart thermostat, fixed monthly electricity, annual HVAC tune-up, and extended HVAC warranty. Now you're offering customers a suite of benefits that will help make you the one-stop shop for home comfort.

That being said, it is particularly important to strike the right balance between finding opportunities in adjacent spaces and trying to break into a market that is beyond a utility's reach. For instance, a utility wouldn't decide to start manufacturing electric vehicles (EVs). However, if it knows EVs are popular amongst its customer base, it might consider partnering with an EV manufacturer or charging company to deploy public charging stations throughout its service territory.

Implementing new strategies like the aforementioned may not be easy, but doing so opens your ability to claim some of that $1.3 trillion pie while deepening your role as a trusted energy advisor. Here are three recommendations Tendril has for utilities making the switch from electron seller to home comfort purveyor:
Tap Into DSM Budgets - Utilities likely have existing DSM budgets that can be used to achieve today's business objectives while also developing the tools and capabilities needed to adapt to new competition that comes with the Energy Cloud. Within DSM programs, utilities can leverage customer data, provide those customers new offers, become an enabler of the smart home, and explore new ways to manage demand. Which brings me to my next point...

Capitalize on Data - Customers and infrastructure produce massive amounts of data that, when used properly, can make utilities incredibly smart about how they marry customers with products, and then leverage those products to positively impact the grid. Data can help personalize every interaction for customers, get the most energy value out of each transaction, and create value for multiple parties in the emerging energy ecosystem.

Create a Reliable Network - Partnering with the right companies is paramount to bringing new solutions to market in a timely manner. Good partners will provide speed, reduced risk, and customizable solutions. The right partner will engage with their utility clients. Rather than delivering a canned solution it will work to define their need and build something that directly addresses it. They have disruption at the core of their DNA and will work tirelessly on the utility's behalf.


If you're interested in learning more, contact us today.