← Blog Home
Home Energy Reports for All
How many businesses do you know that have a valuable, successful product, yet hold it back from 90% of their customer base?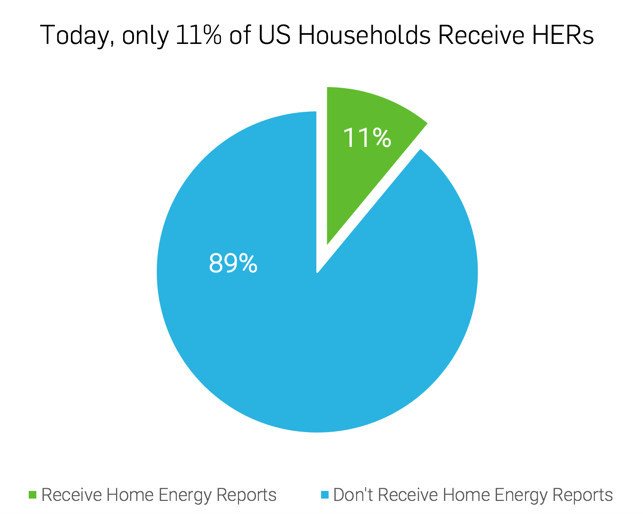 Home Energy Reports (HERs) are a proven tool for utilities to help their customers save energy (and money), while cross promoting additional products, services and programs. It's a win-win. So why do only 11% of residential customers receive them?
At the 2017 E Source Forum conference, I gave a lightning talk on the concept of sending HERs to all customers--not just a narrowly defined segment of them. Read on to learn why and how sending HERs to all customers is the way of the future...and check out the video of my talk at E Source Forum at the end.
The Why
The content is helpful for your customers. HERs offer useful information that people like and respond well to. Customers gain a benchmark for an appropriate level of energy usage, handy tips on how to save energy, and a snapshot of how energy is used within the home. 

People like them, and you can pay for CSAT with EE dollars. When you have a product like HERs that delight customers, it will positively impact their overall satisfaction. When several thousand HER recipients were asked about the effect HERs had on their sentiment toward their utility, almost 60% of users reported a positive impact on overall satisfaction, with only 4% reporting a negative impact. By offering HERs to your entire customer base, your energy efficiency budget will also be contributing to your CSAT goals.


Increase the odds of meeting your EE goals. Sending HERs to all of your customers adds the flexibility of varying your HER program treatment to ensure you achieve your EE goals. If one of the other programs within your EE portfolio is missing its targets, you can adjust the cadence and/or content (more on this below) for some of your HER recipients to squeeze additional short term savings out of them and make up for that program that might not be hitting its mark.
The How
You're probably thinking, "Okay, this sounds great, but very difficult to do in the world that I live in." Utilities are dealing with limited EE goals, varying and sometimes nonexistent compensation, and obligations to 3rd party measurement and verification that require trial and control groups.
Here are five steps to deal with these concerns and get on the path toward HERs for all:
Segment your audience. Sending HERs to your entire customer base doesn't mean applying the same treatment to everyone. Some customers have been part of your EE program for a long time, while others are first-timers. Some customers prefer receiving paper bills and paying with checks, while others enjoy digital communications and online or automated bill pay. Exposure, preferences and motivators vary, so your program treatment should as well, which brings me to step two...

Adjust your cadence. While sending 8 paper reports per year tends to be standard for new HER recipients, perhaps those customers who have been in the program for a long time are already satisfying their savings goals and don't need (or want) that frequency. And maybe your more digitally-inclined customers prefer not to receive paper reports at all. They may be perfectly happy with a monthly eHER that also saves you printing and shipping costs. 

Alter your content. Content is critical for all communications sent to your customers; HERs are no exception. For instance, the home comparison chart is a classic HER component because it is the prime tool for generating savings, but it's also the one part of the report that people don't like. So, for segments of your base that you need to push for EE savings, emphasizing that chart would make sense. But de-emphasizing it for other segments could help bolster your customers' sentiment toward the reports and consequently, your utility as a whole.

Include contextual advertising. When considering sending HERs to your entire customer base, one of your first concerns will likely be the cost. One way to reduce additional cost is through contextual advertising. I emphasize contextual because you want to make sure the ad is useful to your customers. At the end of the day, the goal of the HER is to help them save energy. You don't want to break their trust with unhelpful ads. But if you can marry a relevant, personalized ad with an action they can take to save energy, then not only are you improving your bottom line, you are also delighting your customers.


Leverage AMI for M&V. Traditional M&V processes call for large control groups to verify program treatment. However, the advent of AMI has enabled M&V providers to better forecast energy use, meaning control groups can become much, much smaller. Evergreen Economics performed a study using a measurement approach they developed called AMI Customer Segmentation (AMICS) in lieu of the traditional fixed-effects model that was successfully able to produce far more detailed results. Check out Evergreen Economics' poster on this study here to learn more.
If you're interested in delighting your customers, ensuring your EE goals are met, and leveraging your existing EE budget for additional initiatives like CSAT, sending HERs to your entire customer base is certainly something you should consider.
To learn more about the innovative HER and BEE options we offer our utility partners, watch this 2-minute video.
Here's the footage of my lightning talk at E Source Forum 2017: