← Blog Home
Customer satisfaction has become a high priority amongst utilities in North America because of the value it generates. According to JD Power, regulated US electric utilities that achieve the highest customer satisfaction in J.D. Power studies also reported the highest rates of net operating margin to FERC. On average, the profit margins of electric utilities in the bottom quartile were 4% lower than among utilities in the top quartile. According to our own research, Tendril Home Energy Reports (HERs) provide a positive effect on utility customer satisfaction.
Demand-side management (DSM) groups are perfectly positioned to contribute to overall customer satisfaction by fully supporting the customer journey. Yet, DSM programs have not typically been measured by their effect on customer satisfaction. When it comes to measuring BEE programs, kilowatt hours are king, but as utilities continue to zero in on customer-centricity, we see growing importance of customer satisfaction in DSM programs.
Third-party evaluations mainly calculate energy savings using industry-standard number crunching. Customer satisfaction scores require the addition of customer surveys, so capturing that measurement is more complicated. Which is why articles like CBS Minnesota's "How are Home Energy Reports Calculated?" glean helpful, alternative perspectives on BEE services.
CBS Minnesota's article describing the confusion that HER recipients can experience renewed Tendril's curiosity to know how we're doing. Tendril sends surveys to customers that give us a glimpse at program impressions, but we appreciate third-party validation when it's available. Here's what we found from a quick aggregation of third-party program evaluations.
We looked at 97 third-party verification reports for Tendril and a large competitor's programs published since 2011, and 25 contained results of HER customer satisfaction measures. After normalizing scales, we found that we had a mean score of 8.17 on a 10 point scale. With the same analysis method, our competitor scored 7.02. Our mean score is higher than our competitor's highest individual score.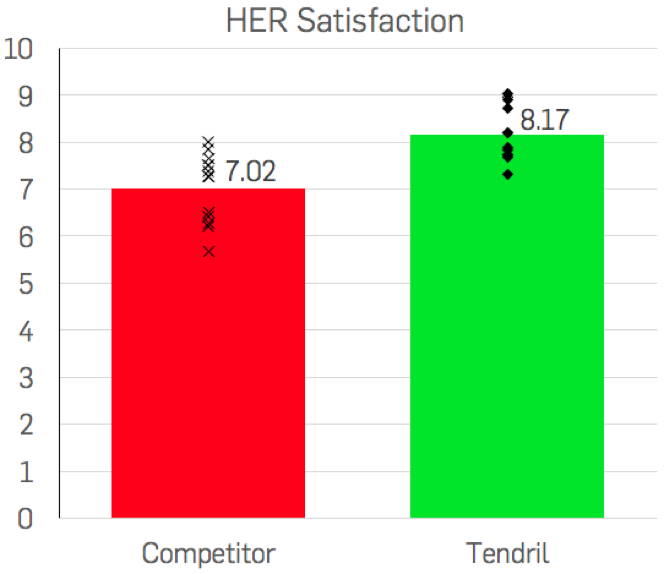 Reference documents available upon request.

For a second approach to evaluate customer preferences, IBM's AI-powered Watson platform completed a text sentiment analysis of over 12,000 J.D Power customer comments to identify and categorize the emotion of HER-related comments. Results categorize comments into five emotions: joy, anger, sadness, disgust and fear. We found that customers are more likely to express joy about Tendril's HERs than any other emotion. One response to Tendril's HERs highlighted, "I love the energy conservation tips. I get a monthly comparison of my usage, an efficient home usage and average home usage."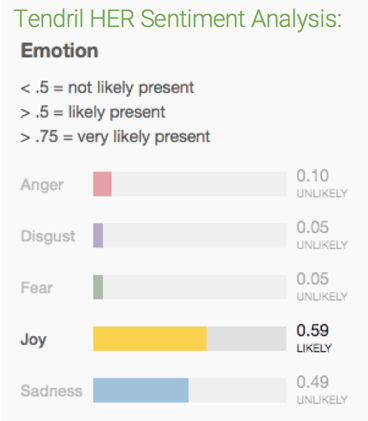 Reference documents available upon request.
I love the energy conservation tips. I get a monthly comparison of my usage, an efficient home usage and average home usage. - Tendril HER Recipient
As the energy industry continues to evolve with rising customer expectations, new regulatory standards, and a growing pool of third-party players threatening to disrupt utility businesses, maintaining a high level of customer satisfaction is more critical than ever. DSM groups are on the front line of customer engagement, so measuring programs solely by energy savings is no longer enough. Our initial analyses bolsters our confidence that Tendril HERs have a significantly positive effect on customer satisfaction, and we're committed to solidifying these findings with extensive third-party analysis and verification. Stay tuned for more results and findings as we dive deeper into this topic.