← Blog Home
Managing New Demands: What DSM Groups Need to Know
Tendril joined GTM Research and Accenture to discuss the current customer analytics landscape, the state of today's new energy consumer, and what utilities can do to modernize their DSM groups. Here are three takeaways from the webinar:
1. Driven by various factors, the customer utility analytics ecosystem continues to grow.
According to GTM Research, $3.2 billion of disclosed funding, equally spread between three main markets (AMI - $1.2 billion, Grid Edge Customer Analytics - $1 billion and Utility back office - $1 billion), were invested between 2010 and Q3 2017.
Contributing influencers to the growth of customer utility analytics include factors such as business model transformations and more data becoming available (think AMI deployments, smart devices, etc.), market innovation, and regulatory action. GTM Research also noted heavy influence from growing customer expectations and technological advancements that are bridging the gap between utility and customer needs.
2. Partner or Perish: Leading North American utilities need to form diverse partnerships that spark innovation, encourage product and service development, and accelerate cultural change.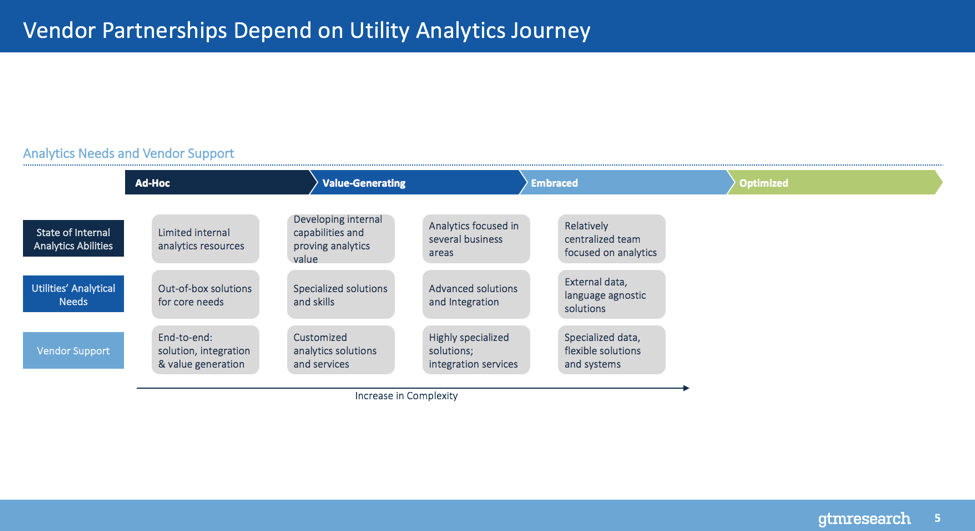 According to Accenture, market leaders are increasingly integrating their core business functions with third parties and external platforms. Accenture's Tim Porter recommends utilities selectively invest in strategic assets, such as distributed energy resources, the smart home and grid automation. Investment in strategic assets should start small, with a focus on incremental improvements.
GTM Research's Fei Wang pointed out that partnering with vendors is a good opportunity for utilities when it comes to their customer analytics journey, since creating solutions focused on customer analytics is not usually a core capability. Utilities just starting out with analytics will especially need support -- such as integration services, consulting and professional services -- to create truly embedded analytics solutions. Utilities that have reached the 'Embraced' phase of their analytics journey should seek partners that can work with any analytics method or language.
3. To avoid the Point Solution Pitfall, adopt a platform approach.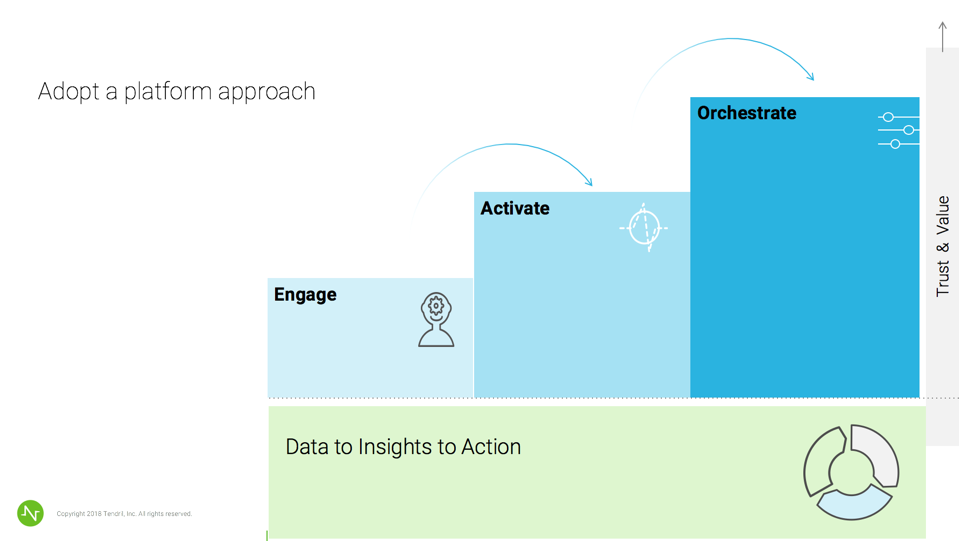 According to Accenture's New Energy Consumer report:
Energy providers' digital investments have focused on short-term fixes, like patching up front-end solutions, investing in back-end improvements to legacy systems and implementing a variety of ad-hoc technologies. This approach has failed to attract and engage customers, limiting mass adoption of digital channels.
Tendril's Jess Melanson encouraged utility DSM groups to adopt a platform approach to their customer engagement strategies. This way, DSM data analytics software can be used to integrate the customer experience so that it is seamless and built on a common data platform. By doing this, DSM functions become data-driven and consumer-centric, and DSM groups cement their role in the core utility business by driving earnings and contributing to system planning. Further, by integrating with smart devices utilities can stake their claim to the smart home.
If you'd like more details on what was covered in this webinar, check out the following:
READ: Extended Webinar Slides - Download an extended version of the webinar slides to read more.
WATCH: View the recorded webinar here.