← Blog Home
Tendril Listed on Outside Magazine's 2012 100 Best Places to Work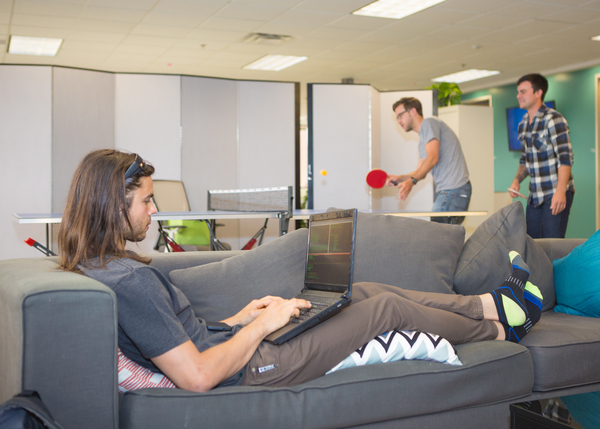 "Enlightened companies seek ambitious individuals who work hard, think big, and crave life-affirming careers, lunchtime bike rides, and soul-expanding travel"
Outside Magazine, 2012 Top 100 Work Places
At Tendril, we are passionate about changing the way the world uses energy. It's a calling, not a job. We fuel this passion by providing an amazing, collaborative environment that keeps people inspired. As a company we are all committed to building a culture that fuels this inspiration. We've been recognized for this commitment by being included on Outside Magazine's 2012 Best Places to Work list.
We are honored to be among such a great group of companies—many of which are renowned for building world-class work environments and for their an unmatched commitment to environmental sustainability.
We strive to give our employees the tools and time they need to enjoy work and life. Employee initiatives range from the eco and health-minded bike-to-work, lunch hour runs and rides, to the fun and social monthly happy hours. We encourage them to take advantage of Boulder Creek (you can see from the photo that for some, the Creek is part of their commute), plus running and biking trails a few feet from the office, an on-site yoga studio and employee initiatives like the annual Tendril group that climbs a fourteener each summer. We feel these are important activities and amenities that keep everyone energized. Wind-power and recycling programs further our commitment to the environment.
We recognize and appreciate that much of what we offer "outside" our headquarters office is a direct result of where we're located—beautiful, Boulder, Colorado. Its unparalleled access to outdoors activities, growing reputation as a haven for "foodies" and connection with the University of Colorado are just a few of the things that make it a great place to live and work. It's no wonder Boulder has been named both the happiest and one of the fittest the towns in the country.
Inside our offices, we invest in our unique and energetic corporate culture. This is possible because we have passionate, smart and fun people (you can read about some of them here). So congrats and thank you to all the employees for making Tendril such a wonderful and rewarding place to work (and play)! And our thanks to Outside Magazine for the kudos.
If Tendril's "calling" and culture resonate with you, you should consider checking out our open positions. It would be great to have you join us.
Dawn Curlee, Vice President, Human Capital