← Blog Home
Could This Be The Best Energy Offer Around?
Imagine this:
Amazon decides to diversify its business again, and this time it's taking on energy. Amazon Energy comes out with a brand new offer for customers: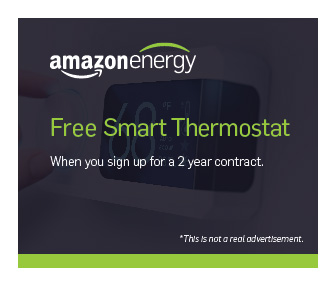 A 2-year contract for green energy at a guaranteed fixed-price of $65/month, complete with a free Alexa-enabled ecobee4 smart thermostat and free smart home consultation - all delivered with the exceptional customer experience Amazon shoppers have come to expect at no cost to Amazon Prime members.
Do you think Amazon Energy's offer would lure customers? Would you bet against it?
Let's take those questions in turn. Would Amazon Energy attract utility customers? Amazon has a lot going for it. It's a global brand in possession of unsurpassed data on what customers desire and buy. It could offer a seamless digital experience, bundled products and a radically different energy pricing structure that might appeal highly to some. Amazon also already has in place a successful model for acquiring and engaging customers, which it could carry over into the energy market.
Knowing all of that, would you bet against Amazon? Despite Amazon's advantages, as a utility, you could safely bet against it…and perhaps you should. Utilities can match a lot of Amazon's advantages. Millions of pre-existing customers? Check. Terabytes of data (or access to terabytes of data) on those customers? Check, again.
Amazon has succeeded in other markets first and foremost because of its attention to the customer. It uses data to personalize its offerings, to ensure customers only see offers relevant to their preferences, to group products in ways that make sense to individuals and lead to profitable upsells, and finally, to create an interface that's so user friendly and convenient that people don't want to shop anywhere else. In fact according to Brokerage firm Credit Suisse, a record 8,600 brick-and-mortar stores will close their doors in 2017, largely due to e commerce masters like Amazon.1
Utilities have at their disposal the same kind of data needed to tailor communications and offerings to meet customers' needs. I'm talking about more than just meter data. It's important that utilities recognize the distinction between meter data and customer data. Often utilities think they need smart meters to understand customers, when actually what smart meter data does is provide near to real-time consumption information for each customer. Meter data, no matter how granular, does not tell you anything of significance about the people in the home, the motivation behind why they do things, or what they are likely to do next. To understand your customers and their motivations, you can start with data such as their age, income, # of family members, if they are a dog owner or a cat owner, a DIYer (Do It Yourselfer) or not, cost conscious or green centric, and on it goes. From our data at Tendril, we know that dog owners are twice as likely to buy solar as cat owners. What interesting things does your data tell you about your customers? Leveraging insights about who you are serving is what will give you a leg up when engaging with consumers.
Perhaps at this point you're thinking that regulatory barriers would drag Amazon down and protect the utility's financial interests. Retail energy choice isn't even available in more than half of the country. That's a fair point, but regulatory momentum is moving squarely in Amazon's direction. Proceedings from New York to Ohio to Arizona are spurring new energy markets that would make Amazon's bundled offer more plausible. The head regulator in California recently said in an interview on the Energy Gang podcast2 that he'd consider re-introducing retail competition to the nation's largest and most dynamic energy market. And if Amazon made this offer work in those states, what utility would want to lawyer up against them at their PUC arguing to "protect" their consumers against the horrors of Amazon's highly successful energy offer?
It makes good business sense now for utilities to adopt and refine their customer-first practices. As we'll surely hear at the upcoming CS Week conference, energy customers are taking matters into their own hands through connected device purchases and participation in renewable energy initiatives (including but not limited to solar) and they want their utilities to support these moves. Utilities need to make sure they have the business models and infrastructures in place to meet their customers' changing approaches to energy.
I'm looking forward to discussing how utilities can set themselves up to lead the industry into the future -- even a future that includes players like Amazon -- at CS Week later this month. Also, be on the lookout for our upcoming ebook that will provide concrete steps utilities can take to ensure they're maximizing customer satisfaction and edging out competition.

Attending CS Week? Join Accenture and Tendril for a candid discussion on how customer expectations are evolving, how that's impacting engagement strategies and what utilities can do to maintain relevance in an increasingly digital (and competitive) energy ecosystem. Attend What They Really Want: Understanding and Serving Today's Utility Customer on Wednesday May 24th from 3:00pm - 4:00pm in room 203C.
___________

References:
1. Wattles, J. (2017, April 22). Stores are closing at an epic pace. CNN Money http://money.cnn.com/2017/04/22/news/credit-suisse-retail/
2. Lacey, S. (Editor in Chief). (2017, March 1) Is Retail Electricity Choice Coming to California? The Energy Gang [Audio Podcast] Retrieved from: https://soundcloud.com/the-energy-gang/is-retail-electricity-choice-coming-to-california